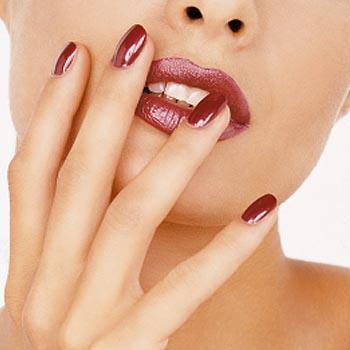 Le meilleu
r mo
ment pour prendre soin de vos ongles est juste après le bain ou la douche. Ils sont alors complètement propres et prêts.
1. Nettoyez vos ongles de toute trace de vernis à ongle précédent. Imbibez un morceau de coton avec du dissolvant doux et laissez poser quelques secondes sur l'ongle afin de dissoudre la couche de vernis. Il s'enlèvera plus facilement.
2. Donnez la bonne forme à l'ongle en passant la lime (lime en carton ou en verre).
Limez chaque ongle en commençant par les côtés et en finissant par le milieu. Ne faites pas de « mouvements de scie » faites plutôt des mouvements longs allant dans le même sens.
Vous éviterez ainsi que vos ongles se cassent.
3. passez vos mains sous l'eau chaude afin de les débarrasser des poussières d'ongle et de ramollir les cuticules.
4. Mettre l'huile de cuticule sur chaque ongle en massant pour assouplir les cuticules.
5. Utiliser un bâton de buis pour les pousser, Le bourrelet ne doit jamais être coupé, mais les peaux envahissantes, appelées sous cuticules doivent être délicatement retiré à l'aide d'une pince à cuticule, on reconnaît cette double peaux à son aspect translucide.
6. Roulez le flacon de vernis entre vos mains. Cela permet un mélange homogène du vernis. Ne pas secouer le flacon, cela pourrait faire de bulles d'air qui altéreraient la qualité de votre vernis.
7. Appliquez d'abord une couche de base transparente. Cette couche permet d'égaliser la surface de l'ongle.
8. Appliquez le vernis de la base de l'ongle vers son extrémité, en partant du milieu de l'ongle. Continuez en appliquant le vernis par les côtés.
9. Appliquez une couche de finition sur votre vernis. Elle rallonge la durée de vie de votre vernis, prévient qu'il ne s'écaille et permet un meilleur rendu.
10. Enfin pour hydrater on peut réappliquer l'huile de cuticule ou une crème hydratante pour les mains en plus de la douceur apportée à vos mains, vous éviterez les ongles cassants.
The best time to take care of your nails is right after a bath or a shower cause they are completely clean and ready.
1. Clean your nails of all traces of nail polish. Soak a cotton ball with a soft nail polish remover and leave it on the nail a few seconds to dissolve the layer of nail polish. It will come off more easily.
2. Give the right shape to your fingernail with the nail file.
File down each nail starting with the sides and ending in the middle. make long movement along the same direction : This will prevent your nails from breaking.
3. place your hands under warm water to get rid of nail dust and to soften the cuticles.
4. Put cuticle oil on each nail and massage to soften the cuticles.
5. Use a stick to push the cuticles, The bead should never be cut, but the cuticles should be gently removed with forceps cuticle, recognizes this double skin with its translucent appearance.
6. Roll the bottle of nail polish in your hands. This allows a homogeneous mixture of nail polish. Do not shake the bottle, it could generate air bubbles which would affect the quality of your nail polish.
7. First, apply a layer of base. This layer serves to equalize the surface of the nail.
8. Apply the nail polish from the base of the nail to its end, starting from the middle of the nail towards the sides.
9. Apply a top coat on your nail. It lengthens the life of your nail, prevents flaking and provides an optimal view.
10. Finally we can reapply the cuticle oil or a moisturizer for hands which will bring softness to your hands and make you avoid brittle nails.